Money Saving Ideas
Here, we give some ideas on how you can make your money go further. Have a look at our page Clothing, Food and Household Goods also for some ideas on where to find cheap items.
Price comparison sites
Price comparison websites allow you to compare deals from different providers on a variety of products. You can then select the one that meets your needs, and which seems like the best price, and click on the link provided to be taken through to the providers website to make your purchase. Products can have customer reviews or ratings that can help you compare (review sites include TrustPilot).
Common price comparison websites include:
On these sites, you can compare prices for the following kinds of products and services which might be relevant to you:
Home contents insurance (when renting)
Car insurance
Travel insurance
Credit cards
Mobile phone and SIM only contracts
Broadband deals (note that you can also get special deals if you are on benefits)
Utility bills (gas and electricity)
The price comparison site will effectively receive a commission if you buy a product through them (you can also buy directly on the product provider's website, but you may get a different quote). Here's a screenshot showing what a contents insurance comparison could look like on one of the comparison sites. You would click 'View details' to see more information and then go to the provider's website to buy the insurance (or you can buy over the phone as well). Note that some types of insurance have a 'pay monthly' figure, which is a bit more overall than an annual amount, and involves you taking out a small loan in effect.which you pay back.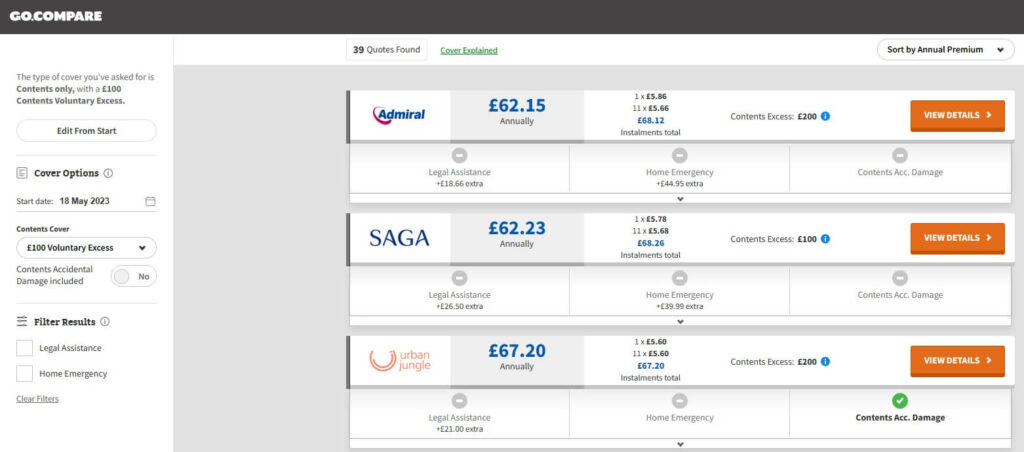 Cashback sites
Cashback sites offer you money back when you shop with different retailers. Each site can have different offers for similar retailers. You may be offered for example a '3 % cashback rate' for a particular retailer, for a limited time period. What this means is if you then click to visit the retailer from the cashback site, your visit is recorded. If you then buy something for £30 on the retailer website, you will be due a 'cashback' of 3 %, i.e. 90 p. This isn't a large amount, but if you are paying for a higher priced item such as insurance, hotels, and travel, it can add up to a reasonable amount of cashback.
Common cashback websites include:
Retailers that offer cashback include the well-known price comparison websites themselves, so you may start by visiting the cashback website (e.g. TopCashback), then the price comparison website which offers the cashback (e.g. GoCompare), then the product provider's website (e.g. Admiral Car Insurance) to make your purchase, in one visit, in order to get cashback from GoCompare.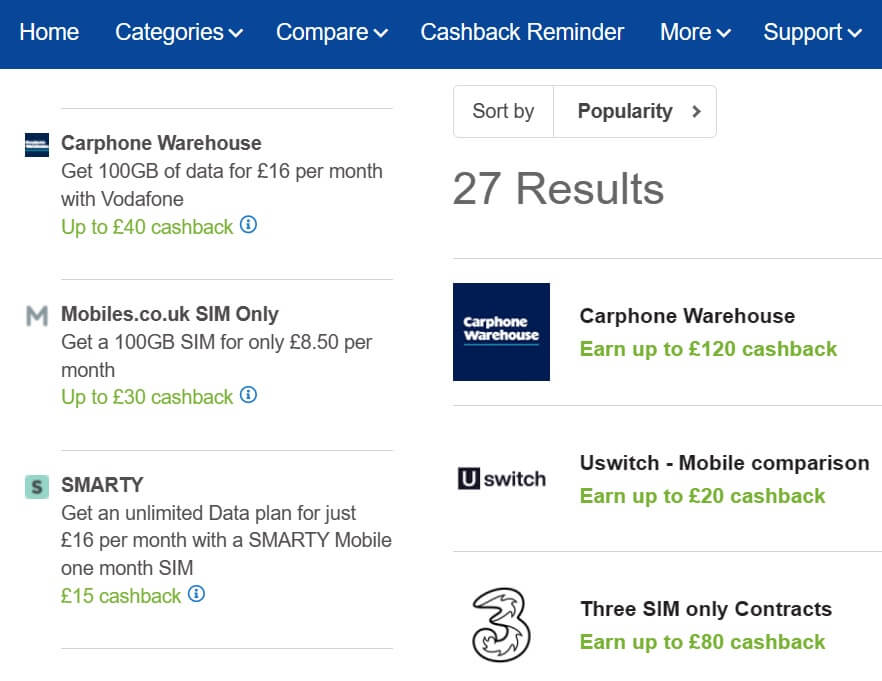 Note that you have to have visited the retailer directly from the cashback site, using the button or link they provide, not by opening a separate browser window, otherwise your purchase can't be tracked. Also note that often it can take several months for the cashback to be validated and confirmed to be paid by the retailer, because they want to make sure you aren't going to cancel the purchase. Nevertheless, it is possible to make a few hundred pounds this way in a year, whilst buying things you are going to buy anyway.
One thing to be careful of with cashback sites, always check the cashback you are getting represents a good deal. If you are receiving £40 cashback for a purchase, it might seem like a bargain, but if you end up paying £50 more for the item than if you'd purchased it directly, that is not such a good deal. We advise checking the product quotes you get on different sites, before deciding if it is better to go through the cashback site.
Loyalty cards
Supermarkets such as Sainsbury's (Nectar card) and Tesco's (Clubcard), and stores such as Boots (Boots Advantage) offer loyalty cards, where you can earn points when you make purchases. The points can then be converted to a cash value (e.g. you may get 1 point for every £1 you spend, and this may have a cash value of 0.5 p). Your points can be used to pay for your shopping at the store, but you can also get emails about discounts and offers such as reduced prices for railcards.
It's definitely worth taking out the loyalty card or shopping app for the store you would shop at most frequently anyway. Sometimes, the price for a product is lower for those using a loyalty card or shopping app.
Note that a loyalty card is simply to collect points, and is different to a store card, which is a credit card offered by the store to actually pay for items.